Mid-Term Review Validation Workshop
Representatives from various organisations such as the Seychelles Fire and Rescue Services Agency, Seychelles Meteorological Authority, Department of Tourism, Public Health Authority, Citizens Engagement Platform Seychelles, Public Utilities Corporation, Cable and Wireless and others attended a validation workshop for the Sendai Framework Mid-Term Review this morning.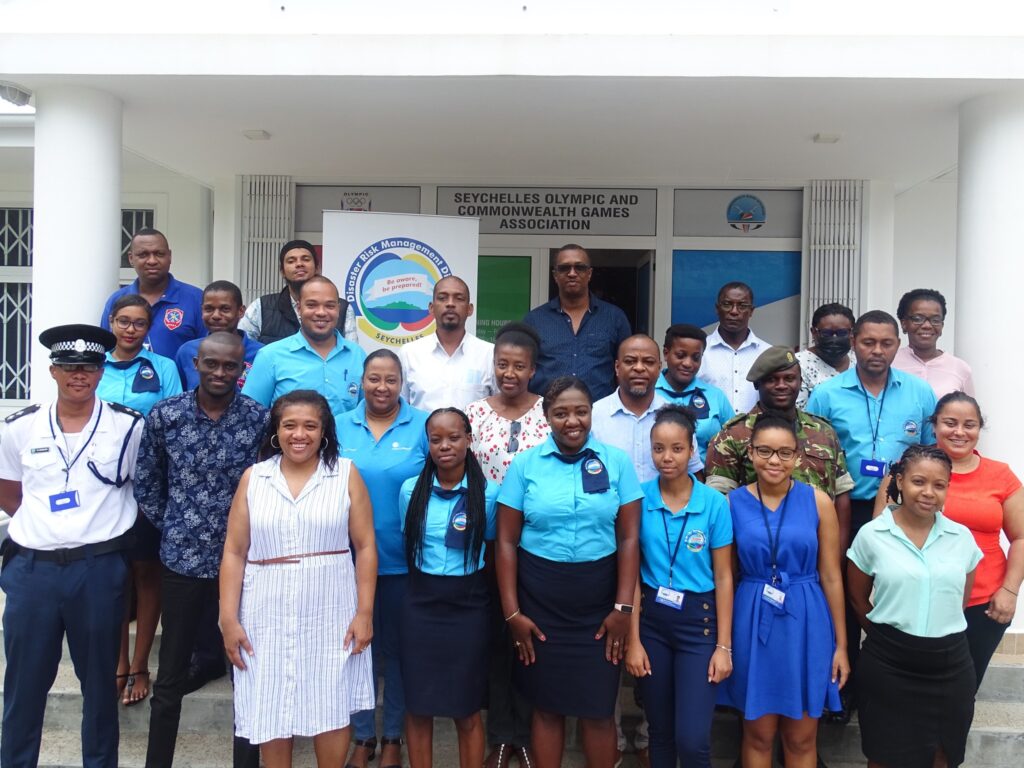 The Sendai Framework for Disaster Risk Reduction 2015 – 2030 (SFDRR) is considered the blueprint for disaster risk reduction globally. With four main priority areas and seven global targets aiming towards the achievement substantial reduction in losses attributed to lives, health and livelihoods in communities and countries reaches its mid-point next year.
The United Nations (UN) General Assembly has initiated a mid-term review to take stock of the overall implementation of the framework on a country basis. This involves the assessment of the progress, challenges experienced as well as the identification of changes and emerging issues in order to formulate country specific recommendations and priorities. The review is expected to inform specific policy adjustments and present new modalities for governments to adopt and implement in the coming years.
The Mid-Term Review Report produced by the Disaster Risk Management Division (DRMD) unfolds by introducing the key concepts, frameworks and literature that guides disaster risk management on both an international and national level. It then presents the methodology that the Seychelles has adopted to conduct the review. It moves on to provide an overview of the findings, the progress, gaps and the constraints that different organisations have faced in the implementation of the framework. The report concludes by providing country specific recommendations from the findings in order to guide and improve on the next phase of implementation of the framework.
The workshop that was held at Olympic House, in Roche Caiman comes about following the culmination of numerous stakeholder consultative meetings held by officers of the DRMD. These stakeholders come from various sectors such academia, the media, political leaders and others. The last of the consultative meetings were held in August this year.
The half day interaction between DRMD and the participants consisted of presentations of retrospective review results by senior officers of the DRMD, namely Aisha Rachel, from the Planning and Preparedness Unit and Veronique Philoe from the National and International Cooperation Unit.
During the plenary session following the presentations, there was a number of significant points raised by the participants. These included the need to have wider consultation to include members of the community as well as the inclusion of traditional and indigenous knowledge in disaster risk reduction. It was also recognised that there is a strong need for more education and awareness efforts by the DRMD and other partner agencies and the need to improve coordination efforts and for much emphasis to be placed on the integration of disaster risk reduction practices at all levels of society.
The report will be amended after further feedback is collected by the DRM
Art Competition HARE IDDRR Lauching ceremony Midterm Review NIEMP p.u.c Port Victoria Emergency Preparedness Plan radio communication training Sendai Framework staff retreat survey tabletop exercise unit articles